Exhibition Information & Sponsorship Opportunities


The BMSS Annual Meeting would not be possible without the very generous support of ALL of our exhibitors and sponsors. The Society is most grateful for your support and will proactively work to facilitate a productive BMSS42 experience for your company/organisation.

In 2022 the Society will host a conventional 3-Day Annual Meeting and Vendor Exhibition, together with a full social programme.

Standard Sponsorship Options
Barber Lecture Prize (judged best ECS oral): £350
Green Flash Oral Prize (judged best ECS flash oral): £350
Bordoli Poster Prize (judged best ECS poster): £350
Delegates Choice Poster Prize: £350
Conference Mixer (RNCM Tuesday 13-SEP-22: £1,475
Supper/Social Evening (RNCM) Tuesday 13-SEP-22: £2,500
Pre-Dinner Reception (Mercure Hotel) Wednesday 14-SEP-22: £1,475
Conference Dinner (Mercure Hotel) Wednesday 14-SEP-22: £2,000
BMSS42 Registration Badge Branding & Messaging: £2,500

Alternate Sponsorship Options
The BMSS welcomes suggestions for alternate sponsorship arrangements.If you have an original sponsorship proposition we would like to discuss that with you… Please contact the BMSS Meetings Secretary to develop your idea: mark_mcdowall@icloud.com

Exhibition Floor Plan
Set within the three interconnected levels (L0, L1, L2) of the RNCM concourse. The BMSS42 lecture theaters, and poster halls, connect directly to the concourse. The Brodsky room connects directly to the café & bar area on L0 of the concourse. Two catering points are located on the upper levels of the concourse L1 & L2. A third catering point is located in the Brodsky room on the ground floor L0. An inclusive reception and buffet supper will be served throughout the exhibition space on the evening of Tuesday 13th September 2022.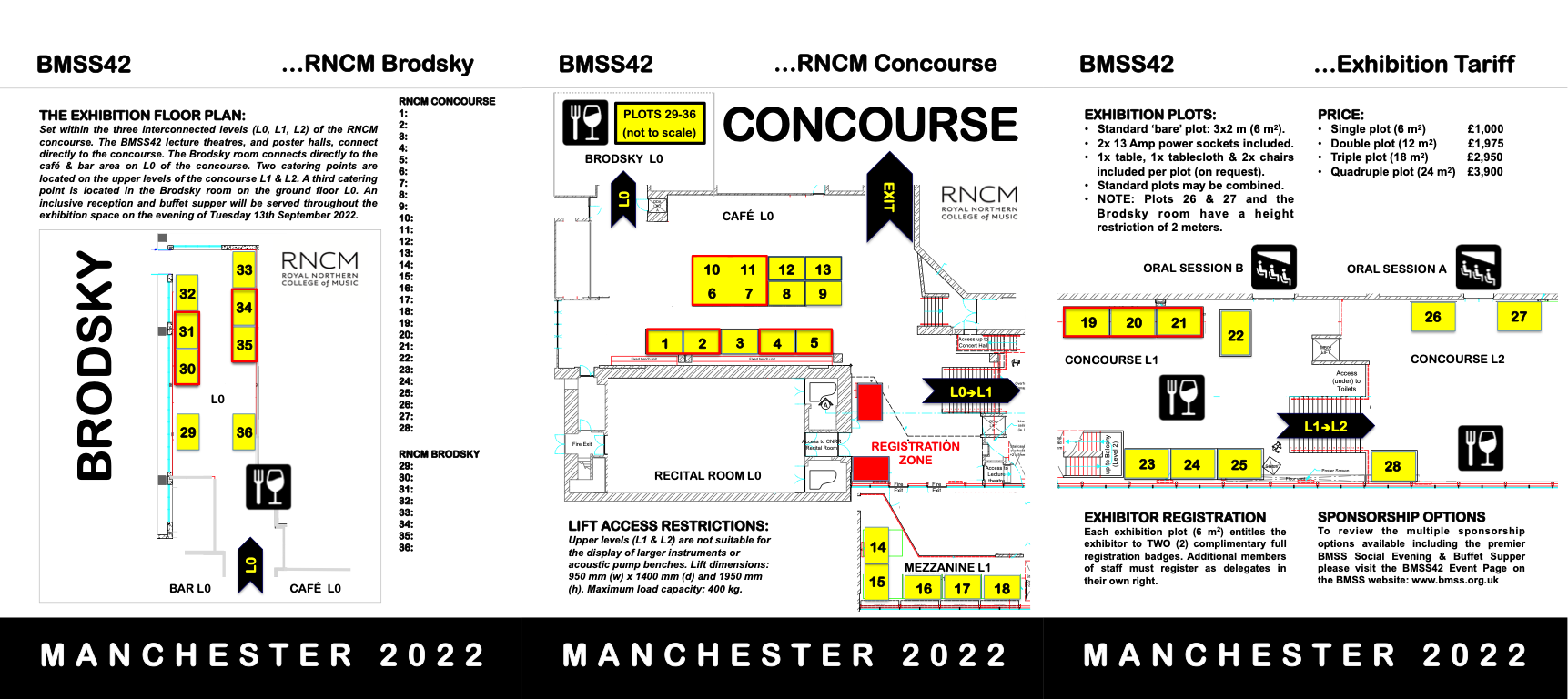 Clicking on the icon at the bottom of this page will enable you to download a pdf version of the Exhibition Floor plan for a clearer view.

Exhibition Plots
Single standard 'bare' plot: 3x2m (6 sqm).
2x13 Amp power sockets included.
1x table, 1x tablecloth and 2x chairs included per plot.
2x full registration badges included per plot.
NOTE1: Plots 26, 27 and Brodsky have a height restriction of 2 meters.

Exhibition Price
Single plot (6 sqm) £1,000.00
Double plot (12 sqm) £1,975.00
Triple plot (18 sqm) £2,950.00
Quadruple Plot (24 sqm) £3,900.00

Exhibition Booking Procedure
Please refer to the exhibition floor plan above and select your preferred position(s).
Please e-mail the BMSS Meetings Secretary to provisionally reserve your position(s): mark_mcdowall@icloud.com your nominated position(s) will be held for five (5) working days only.
Please download the BMSS42 Exhibition Booking Form (see icon at the bottom of this page) and complete the form, within five (5) working days, and return as a signed pdf to: mark_mcdowall@icloud.com
On receipt of your completed booking form the BMSS will e-mail you a confirmation of booking.

Exhibitor & Sponsor Enquiries:
To reserve exhibition space or negotiate sponsorship options please contact the BMSS Meetings Secretary:
+44 (0) 161 998 7757 mark_mcdowall@icloud.com


BMSS42 Exhibition Booking Form

BMSS42 Exhibition Floor Plan