Games Group Legacy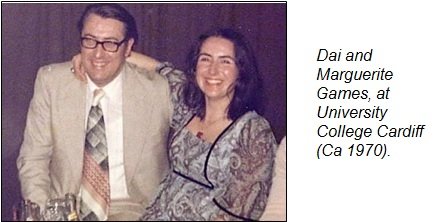 Dai and Marguerite Games in a life-long partnership founded a research group that, together with a handful of likeminded international colleagues, championed the development & application of LC-MS. They contributed to a global scientific legacy that continues to inform analytical science to the present day.
Nurturing Generations of Scientists
The Games Group inspirationally mentored multiple cohorts of research students in their own unique way. The Games Group had an unerring ability to identify latent talent, in candidates that did not necessarily conform to the academic prejudices of the day, …'self starters' were assiduously recruited and enabled! The group inducted a very diverse team, …and were 'ahead of the curve' in doing so in the 1970/80s. In homage to that ethos the 2019 meeting aggressively encourages the participation of Early Career Researchers.

King's College London
Dai and Marguerite first met, as undergraduates, at King's. It is therefore both appropriate and poignant that this forward looking meeting, celebrating the legacy of the Games Group, is held at KCL.